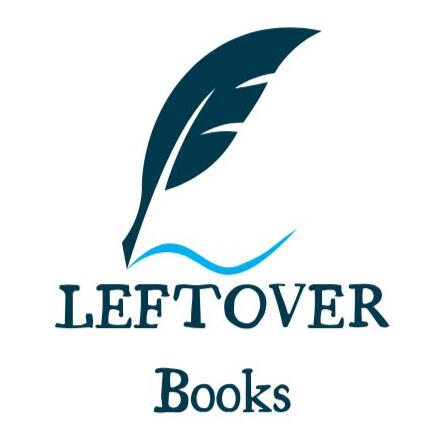 LEFTOVER Books
Publishing books ignored by the mainstream
Our story
LEFTOVER Books is a small press based out of Rochester, NY. Founded in 2021 by fellow author and editor Patrick Trotti, the goal is to discover and share distinct voices of fiction. We want to build relationships with our authors that are based on mutual respect and an appreciation of the craft of storytelling.So why publish with us? Quality over quantity is our mindset, as we plan on releasing a handful of titles per year. This ensures that each book, and author, get the attention that they deserve.What we lack in money and institutional infrastructure, we make up for with a personalized relationship with our authors as well as competitive royalty rates, a 50/50 split. Our goal is to simplify the process of publishing and give the author, in consultation with our Editor, as much authority over their vision as possible. Everything is usually done in house, from design to editing, we are a one-stop shop where the author can entrust us with their work to make it as polished as possible.We're now linked up with the largest distributor in the industry, Ingramspark, but still be prepared to get out of this process what you put in with regards to publicity and marketing.We're looking for book-length literary fiction of the highest quality. The term literary, to us, is broad and can be executed in any number of ways.Please send one unpublished manuscript at a time. We want to simplify the process of publishing, so no need for a fancy cover letter or synopsis. If you have them, great, but let the work itself do most of the heavy lifting. Be patient and know that we'll do our best to respond as soon as possible.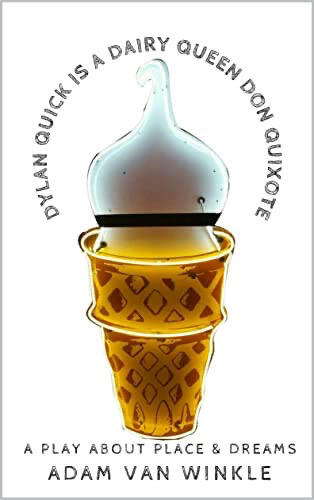 Dylan Quick is a Dairy Queen Don Quixote by Adam Van Winkle

(November 2, 2021)
ISBN: 979-8985107005

Purchase from Amazon here

"Told in three time periods, Dylan Quick's late teen years, Dylan Quick's late twenties to early thirties, and Dylan Quick's mid-forties, we see a dream of owning a Dairy Queen franchise evolve from saving grace to damnable curse. Along the way, dark secrets emerge about the actions Dylan Quick has taken to realize his DQ franchise dream, and the people he's hurt along the way, not the least of which is himself. The songs from the old DQ dining room jukebox provide the perfect classic country-rock soundtrack for these hard-luck smalltown folks."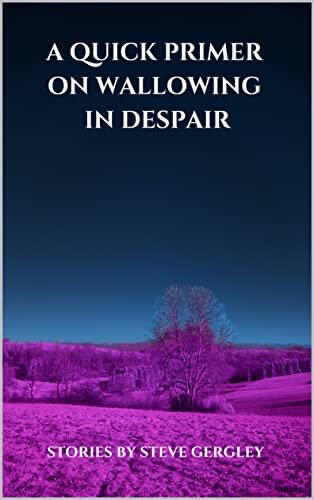 A Quick Primer on Wallowing in Despair by Steve Gergley

(May 5, 2022)
ISBN: 979-8985107043

Purchase from Amazon here
Purchase from Barnes & Noble here
Purchase from Bookshop here

"A death metal guitarist battles mind-controlling aliens to save her new girlfriend. Two desperate heroin addicts attempt to rob a CVS convenience store. An aspiring magician struggles to escape from the Church of Scientology after signing a billion-year contract. An alcoholic waitress begins a road trip to meet Lana Del Rey, who may or may not be her childhood best friend. A twenty-seven-year-old underachiever watches his body disappear, one piece at a time, the longer he lives with his parents. In this collection of dynamic and experimental short stories, these characters and others confront the despair, disillusionment, anxiety, and ennui that slumbers just below the surface of everyday life."

Interviews and Reviews for A Quick Primer on Wallowing in Despair:

"Alien to Every Situation: Steve Gergley interviewed by Rebecca Gransden" X-R-A-Y Literary Magazine, May 2022.

"A Quick Primer on Wallowing in Despair, Reviewed by Kassie Bohannon" Heavy Feather Review, May 2022

Advance Praise for A Quick Primer on Wallowing in Despair:

"A Quick Primer on Wallowing in Despair takes you through aliens, vanishing bodies and horseradish people and digs at what we keep buried inside of us. Steve Gergley is a master of combining seemingly disparate elements into a cohesive whole and accomplishes this brilliantly in his debut collection with its sentence level prose, individual story arcs and the way these different stories weave together into a single, almost absurdist yet also deeply human experience."
– Lucy Zhang, fiction editor of Heavy Feather Review.

"A long-time fan of Steve Gergley's work, I'm always impressed by his range: Gergley's stories swing from gritty, sharp realism to speculative fantasy to wild, formal experimentalism. His desperado characters lurch through scenes both plausible (tweaking addicts botching a robbery) and bizarre (heroic guitarists staving off an alien invasion through head-banging). Despite their desperate straits, they never lose hope. These stories are unpredictable, macabre, deadpan, both hilarious and harrowing, by an author who is entirely original."
– Kim Magowan, author of the short story collection How Far I've Come, forthcoming in 2022 from Gold Wake Press; the novel The Light Source (2019), published by 7.13 Books; and the short story collection Undoing (2018), which won the 2017 Moon City Press Fiction Award. She is the Editor-in-Chief and Fiction Editor of Pithead Chapel.

"Steve Gergley has managed to take my favorite kind of short stories and throw them into one fluid and fun collection. They are full of music and life. Each story has its own form of hidden bliss beneath the crushing blows that we are shackled to in real life. With each ebb and flow of despair, we are met with promise and adventure. Steve is a talented author with a flair for the abstract. Don't sleep on this book. It's something you're going to love."
– Mallory Smart, author of The Only Living Girl in Chicago, and Editor-in-Chief of Maudlin House.

"In prose both breathless and frank, Gergley tells the stories of the pathetic and ridiculous with such empathy and honesty that one can't help but cheer for them, identify with them, and flip pages wondering what incredible thing will happen next. Each story in A Quick Primer on Wallowing in Despair is a surprise."
– Meagan Lucas, author of the award-winning novel, Songbirds and Stray Dogs, and Editor-in-Chief of Reckon Review.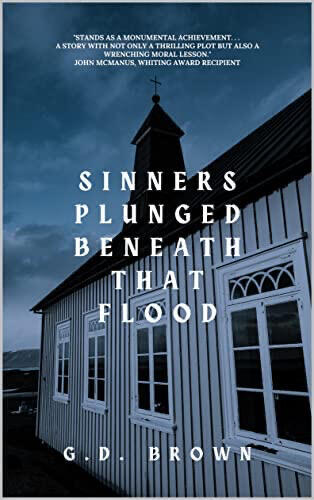 Sinners Plunged Beneath That Flood by GD Brown

ISBN: 979-8-9851070-2-9
(July 7, 2022)

Purchase the book here

"Sixteen-year-old Jenn is struggling to cope with her best friend's disappearance and the deadly trailer fire that preceded it. When her only other close companion is thrust into the adult world without her, Jenn begins her own investigation into the strange happenings plaguing her small Oklahoma town. She crosses paths with Sheriff Douglas Taylor, a lawman trying to hush murmurs of a church deacon-turned-meth dealer motivated by ecstatic visions and a hunger for material power. Before long, mysterious threats force the sheriff to weigh his own reputation as a hero against his ideas of security, as the deacon's wife, Charlotte, seeks solace in novelty and considers the ways the old man will haunt the county and consume its working poor. Charlotte, Sheriff Taylor, and Jenn each find themselves then beneath a flood of shadow in the autumn months of 1998, and it is only there that they begin to make sense of their changing worlds."

Praise for Sinners Plunged Beneath That Flood

"Sinners Plunged Beneath That Flood stands as a monumental achievement. . . . [G.D. Brown] has created a world from scratch and populated it with a large cast of characters who pulsate with desire and fear and dark energy. It's a story with not only a thrilling plot but also a wrenching moral lesson, which it conveys by suggesting that Jim and his henchmen embody an evil that's ineradicable yet must be fought. The prose is excellent throughout: limpid and direct."
-John McManus, recipient of the Whiting Award and the Literature Award from the American Academy of Arts and Letters, author of Bitter Milk, Born On A Train, Stop Breakin Down, and Fox Tooth Heart

"Sinners Plunged Beneath That Flood is a bleak, soulful look at the ravages of the burgeoning meth trade in rural Oklahoma circa 1998. . . . [It is] finely told, with a deep rhythm of inevitability and autumnal regret . . . a satisfying, if sorrowful eulogy to the human heart behind the meth epidemic in middle America. . . . [Brown's] work here shows a thoughtful new voice from a section of the country too often ignored."
-Sherri L. Smith, award-winning author of Sparrow, Flygirl, Orleans, Pasadena, and The Blossom and the Firefly

"Milwaukee author G.D. Brown's bleak yet gripping debut novel . . . swirls around a handful of broken souls in a small Oklahoma town ravaged by the meth trade. . . . The tense prose announces Brown as a Wisconsin writer on the rise."
-Isthmus Madison

"Sinners Plunged Beneath that Flood is not for the faint of heart, but the mere precision in story-telling and world-building make it a stellar and worthwhile read. It's a novel great at creating questions and challenging readers' ideas of the preconceived good and bad. Much like Brown's characters, readers will come out a different person from this novel than they were going in. As you read, you'll ask questions you desperately need answers to; and once you're met with those answers, you'll regret asking at all."
-Sean Wolff, Glassworks


"[The reviewer] set it aside and tried to read again, but just could not do so."
-Wisconsin Writers Association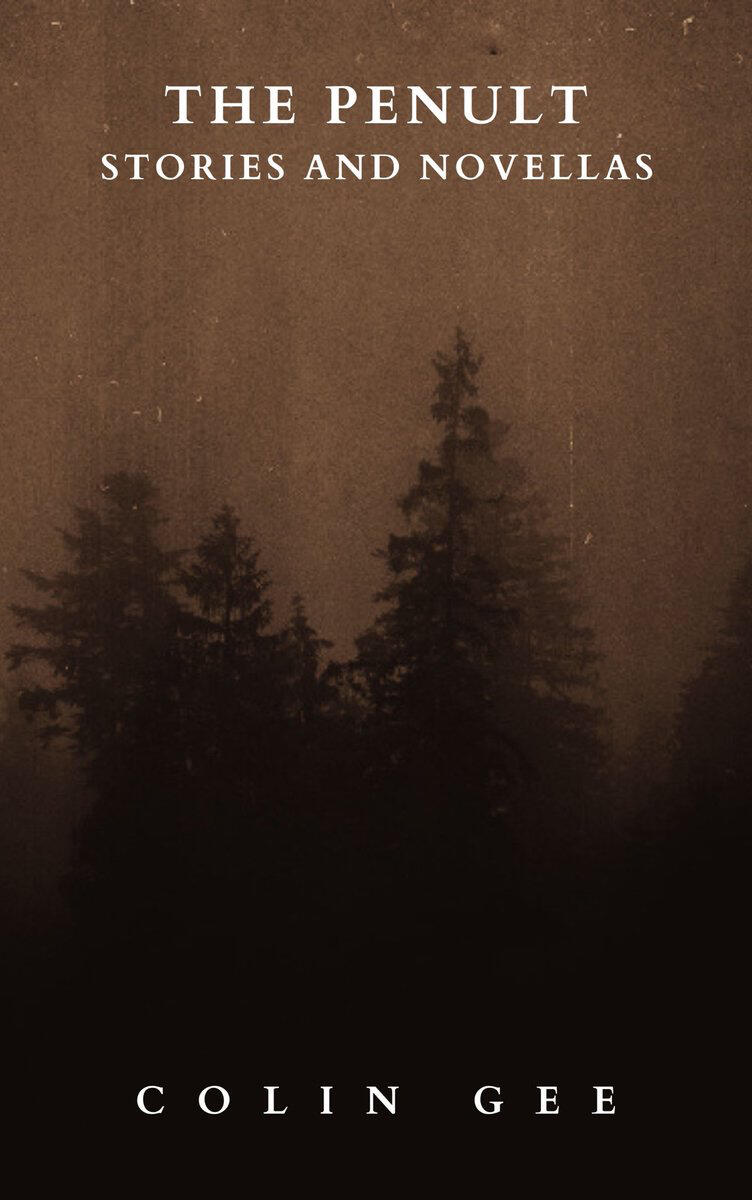 The Penult : Stories and novellas by Colin Gee

Coming November 1, 2023

$20 Paperback ISBN: 979-8-9851070-5-0
$4.99 Ebook ISBN: 978-1-0881-5838-8
Buy the paperback here and hereBuy the ebook hereA man reaches for his earthquake helmet. A graduate student unleashes armageddon with a crystal. A woman breaks up with her shrinking boyfriend. My son disowned me for wearing a colorful jacket to his wedding. There is a problem with boyfriend.This is a tour of the grotesque and impossible, a collection of hysterical, absurdist stories capped with two cruel little novellas, experiments in high adventure on a strange parallel plane.

"Unlike anything I've read. I felt like a sinner on peyote bearing witness to sequences of events I don't fully understand."
- Sebastián Vice, Founder of Outcast Press

More information soon!
LEFTOVER Books is pleased to announce the acquisition of Danny Goodman's debut novel, Amerikaland, for publication in June 2024.


"A searing debut novel of hope and survival following two athletes as they reckon with secrets from their pasts and the belief that good people will fight against prejudice and tyranny.In a reimagined present day, Sabine, a guarded, independent German tennis player, and Sandy, a Brooklyn-born Jewish baseball player, find themselves in New York City for World Day—a sporting event meant to celebrate international peace.For years, Sabine was regarded as a tennis legend until an act of violence threatened her life and career. Now, she is determined to stand before the crowds once again a winner. Sandy is the beloved star of his hometown team, but a recent horrific antisemitic crime nearly unravels him.Their lives are forever changed when a massive terrorist attack strikes World Day. As Sabine and Sandy emerge from this destruction, their journeys take them across the Atlantic and back again, where they come to understand how they are each connected to the attack—connections veiled by shocking family secrets and geopolitical motivations. After these revelations, they'll have to decide if their love and friendship can bridge a path forward.In striking resonance with today's rising antisemitism, AMERIKALAND tells the emotional story of people battling their histories and charting their own fates."

Danny Goodman's writing has appeared in various publications, and he was the recipient of a writer-in-residence fellowship from Rivendell. He lives in New York's Hudson Valley with his wife, a book editor, and their editorial cats. Currently at work on a new novel, he is badly in need of a nap.

Follow Danny on Twitter and Instagram, and visit him online at dannygoodman.me


$18 Paperback ISBN: 979-8-9851070-6-7
$5.99 Ebook ISBN: 979-8-9851070-7-4


Cover reveal coming soon!
Contact Us
Questions, comments, submissions etc…